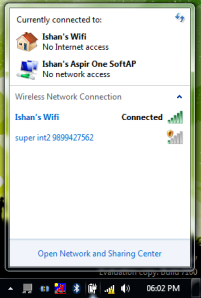 As you may already know Windows 7 adds native Virtual WiFi technology from Microsoft Research as mentioned by Long on his blog. This lead me to this MSDN page stating
"On Windows 7 and later, the operating system installs a virtual device if a Hosted Network capable wireless adapter is present on the machine. This virtual device normally shows up in the "Network Connections Folder" as 'Wireless Network Connection 2' with a Device Name of 'Microsoft Virtual WiFi Miniport adapter' if the computer has a single wireless network adapter. This virtual device is used exclusively for performing software access point (SoftAP) connections and is not present in the list returned by the WlanEnumInterfaces function. The lifetime of this virtual device is tied to the physical wireless adapter. If the physical wireless adapter is disabled, this virtual device will be removed as well."
Wait a minute! SoftAP! Seriously? This was a surprize since I had been exploring a solution for this exact problem for more than a month. However I was disappointed at first when I got my hands on Windows 7 RC. There was no setting for this so called SoftAP feature. Forget that, I could not even find the virtual wireless device named "Microsoft Virtual WiFi Miniport adapter". It just did not exist. Some people on the web speculated that this was because of missing driver support even though Virtual WiFi functionality is a requirement for WLAN drivers under the Windows 7 certification logo. This did not fit. I was never prompted for installing uncertified drivers. As a matter of fact I did not have to install any drivers at all. Everything was done by Windows 7 automatically. I decided to investigate, and found the solution. Basically there is no native GUI to do all this, so you have to use command prompt to do all this. Here is what you need to do.
Thursday, 28 May 2009
10:15 am
"I'll drive!", I declared to my dad. He smiled which means "No, but I am open to debates". We were going to the hospital. I had been having this constant tiredness in muscles all over for about a week now. I sat quietly in the passenger seat. "You are not even carrying your license with you", he said. He had a valid point. I had just got up, brushed my teeth and got out of the house. I was expecting to be asked for my urine and stool samples at the hospital. I can't satisfy the demand if I am out of supplies. Dad started reversing the car. BUMP! Bumped into a still car. Dad looked around. No one. We flew. That was a point in my favour. I have a much better miles per bump (mpb) record. But I was tired and kept quiet. It did not seem worth the 5 minutes drive.
Yea you heard me right. After all what I know about blogging is from my own perception. Perception is the most reliable source of knowledge. All I know about blogging is that people write some stupid pieces of text and get a link of to spread to all their friends. Close to spamming, I guess. You must also have experienced this sort of spamming. Of course you have, how else would you have arrived to my blog otherwise. Don't be so happy, it means you are also a part of this crime, don't you know spamming is a crime? Well we both are criminals in that case. I guess there are enough criminal laws in India to state every person a criminal. We have homosexuality, selling and buying pornography and many victimless acts that don't even bother anyone, all of them stated crimes. Long live the Indian secularism according to which polygamy is crime for a man and nothing close to bad for another man. Hmmm... I am not bad at this blogging bullshit (bullshit blogging). In fact its fun. Now I understand what a criminals feels about crime. Let me warn you people "CRIME IS not FUN". This reminds me of those funny warning boards with "not" and/or "do not" written in a font different from the rest of the message. So different a font that people ignore them while they read the rest of the message. I remember how confused i felt reading "DO not TRY THIS AT HOME" and "do not PUT YOUR HANDS BETWEEN THE LIFT DOORS". I mean "Why the hell are you so interested in killing me!". Now i have spoken a lot about those whom we do not speak about. So I'll stop speaking about them whom we do not speak about before they whom we do not speak about know about me speaking about them whom we do not speak about.